Our first visit to Rimbard after the purchase in 2003 was in October. The rose-coloured glassed were off, and we were able to see what we had let ourselves in for......
which was 'one hell of a lot' !

The middle section of Rimbard Manor was habitable, just about. This gave us a kitchen, lounge, bathroom and two bedrooms. Both the north and south wings of the Manor were derelict, definitely hard hat areas.

On that first visit in October I had a moment of despair when I saw the kitchen. I had an old stone sink resting on a rickety old cupboard, and a borrowed oven. Not exactly a Smallbone Kitchen. However when our trusty old transit van had been emptied, with a second hand dining suite, and cupboards put into place it looked much better.
The bathroom was functional, but very 70's and the masher toilet was temperamental in the extreme. Sometimes it would flush, sometimes it wouldn't. Sometimes it would flush, and carry on flushing until it overflowed! It even flushed in the middle on the night, of it's own accord, when we were all in bed! On day John decided to investigate the problem. Perhaps there was a blockage in the septic tank. Here was the first of many discoveries, not all of them good. We did not have a septic tank, nor where we connected to the main sewer. We discovered that the sewerage, and all water from the Manor was simply draining away underground in to the forest! We had noticed that the vegetation in the forest was particularly lush.! So, with the aid of local specialists two septic tanks were dug and huge sand bed filters installed. This was our very first renovation exercise.

I mentioned earlier that both the north and south wings of the Manor were derelict, and were deteriorating fast. We did not want to tackle such a mammoth task without a little more experience under our belts with the language, building materiel supplies, building regulations etc. We decided to tackle the gite first. This would give us somewhere to live when work started on the manor, and be a much needed learning exercise.
​Plans for the gite renovation were submitted and passed without problem. Rimbard is situated within the French equivalent of Green Belt. We knew that no additional building work would be permitted unless a building had already stood there. The gite started life over 200 years ago as a cowshed and milking parlour, and although in a poor state of repair it was a solid looking building.
Work began in 2004, and the first job was to remove the cow stalls. John thought this would be the easy bit. Wrong! It took a week, and finally we had to use a borrowed JCB to drag them out. It was as if they had been anchored to the earth's core! Next job was to power wash the cow manure off the walls. Lovely! My brother helped John with this task and I remember that my sister-in-law and myself would not allow the men into the house until they had taken a bath in the garden!

Old French buildings can look deceptively sturdy until you start work on them. This was the case with the gite. When we removed the rotting roof timbers we discovered the walls were unstable (held together with mud.) We had to remove, and rebuild the end wall where the huge old door had been, and the complete back wall, as a tree was rooted in it and blowing it apart. This left us with the sum total of two and a half walls.​
However it seems, looking back, that the rebuild happened quite quickly, but it still took 18 months. John worked here as often as he could, with the help of a very dear friend. I stayed in England with Zachary who was still at junior school. We were however lucky enough to spend every school holiday here.

By Easter 2006 we were ready to start on the inside of the gite, and by the end of the summer we had a finished bedroom and kitchen.
Later on in the year the whole of the inside of the gite was completed and it looked great. That winter was particularly cold, and I remember evenings when all three of us would snuggle up in front of the log burner and watch T.V. Our first Christmas in the Gite was very special.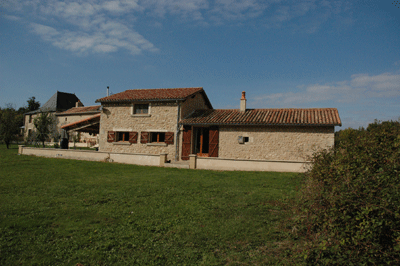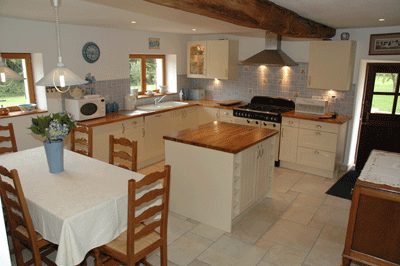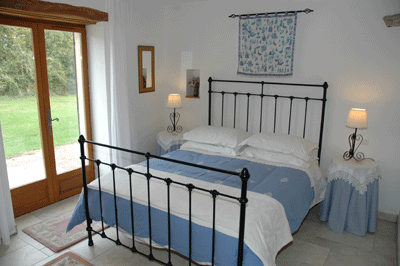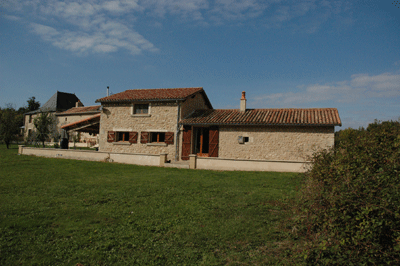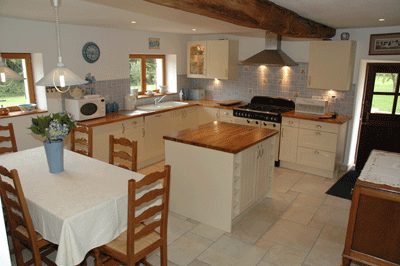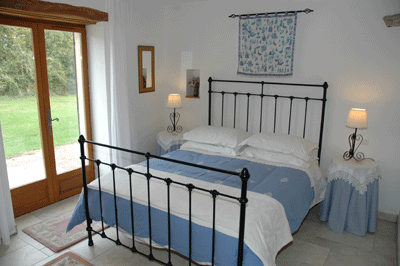 During our time living in the manor we had spent a lot of time getting to know the house, and 'listening' to it. I know that is a very Kevin McCloud thing to say, but really it is true. The renovation of a building as old as Rimbard is a huge responsibility. By the time we had submitted our plans in October 2006 we knew what the building wanted of us, and what we wanted of it. Our plans were passed without any problem, and a French builder was found for the work that was needed to stabilise the building – underpinning (we had no foundations) and structural steelwork would be required to the part of the house that was slowly slipping south, and lastly to remove, raise and replace the roof.

Summer 2007 saw John stripping out the house. We saved all useful architectural items that could be re-used and then removed the rotten timber beams, and all the modern French renovation additions carried out in the early 1970's. This was no mean feat, as all the ceilings had years of dirt and rubble in the voids above.
It was a dangerous time, as many of the floor and roof timbers were so rotten that they could not be walked on without safety harnesses.

We did however make new discoveries during this process, two intact old fireplaces were discovered that would be later cleaned and become the stunning focal points in the kitchen and lounge.

Our French builders started work in December 2007, and we were told it would take no more that three months to complete the structural work. It actually took 17 months!

It had always puzzled us why Rimbard did not have it's own well water. We had mains water that was metered and very expensive, but we had expected there to be a well somewhere. All our enquiries proved fruitless. An underground water supply was essential for the ground source heat pump central heating system we wanted. A water diviner was contacted, who told us exactly were we would find water. I must confess, before I met this sweet old man, with his string and pendulum, that water divining was the stuff of myth and legend. However, he took his art seriously, and on the strength of his findings we were urged to book a specialist team who would dig the well.
At 5,000 euros for the drilling, we had more that our fingers crossed that he was right.

On a very cold December morning in 2007 the digging crew arrived along with a core drill that would not have looked out of place in an episode of Thunderbirds. There was an air of tangible excitement as drilling commenced, which must have been felt for quite a distance, because, before very long our courtyard was full of spectators. Chairs and blankets were found, and hot coffee with generous tots of whisky was passed around. There was a delightful feeling of anticipation. However the feeling of excitement and anticipation dissolved as drilling went on, and on, and on with no sign of water. Freezing fog settled at 5pm, and the drill hit rock so solid that the drill bit was literally glowing red hot. The drill team decided to call it a day and return the following day.
The drill team arrived bright and early the next day, and began drilling straight away, and after only 45 minutes water was found. It gushed high and forcefully from the well head, and quickly covered the courtyard. At 12 degrees the water felt warm, even through our Wellington boots. It was a strange sensation to be paddling in warm water outside in temperatures of minus 7. Water had been discovered at Rimbard Manor, 65 metres down, and it felt like nothing short of a miracle.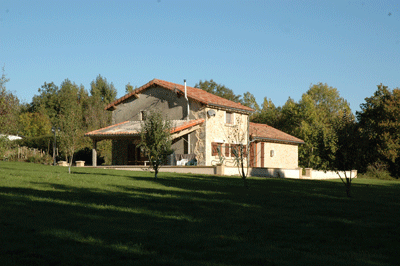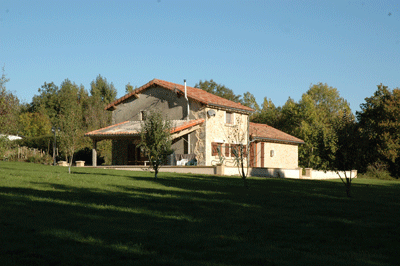 In February 2008 our daughter Kathryn and her partner Jim got engaged. We all thought a wedding in France would be a good idea. A date was set for 14th August 2010. No problem…..we had loads of time.

While the builders were working on the Manor, John was busy back at the gite. He set to work building a terrace and garden walls around the gite. Then he built a sturdy tiled cover over the terrace by the back door, so that we could eat al fresco, shaded from the sun. Next he made a private driveway to the gite, so that our guests could come and go as they pleased. I was occupied with the vegetable plot, and potting up planters with geraniums and bedding plants for the terrace. It all looked lovely.

Our builders continue to pull Rimbard apart. The expression 'it's got to look worse, before it looks better', had never been truer. It was discovered that the south wing gable end was in a much worse condition that we had first thought. It had to be demolished, and then totally rebuilt. For a while the south wing looked as if a very hungry giant had taken a huge bite. The weather at this time was awful. The wind blew, and the rain was torrential. We fastened tarpaulin, but the wind blew it off. It was very demoralising to see the interior of the manor getting wet, and spoiling. To add to our frustration our builders would keep disappearing.
Sometimes for a few days, and sometimes for weeks on end. Any attempt to pin them down to a time framing, or a completion date would simply earn us a French shrug. Ahhhhhh!!!​
To offset our frustration we kept ourselves busy. John re-faced in stone all the new block walls, and built a new centre stone spine wall, that was over six metres high.
Not to mention the miles of stone re-pointing, after first chipping off the old render.

Then there was the awful job of cleaning the internal stone and black oak beams of the years of soot from the open fires. John hired an industrial sand blaster for this. (He looked like Darth Vader for the weekend.)

At last, 14 months over schedule our builders departed.
We were not sad to see them go. We did a rough calculation. If we work from now (April 09) seven days a week, twelve hour days we may just have a finished house for Kathryn's wedding in August 2010.​

But our planning was not to be, because on the 6th June 2009 John was injured whilst at a local DIY store buying sacks of cement. His foot was broken, but the muscle damage to his leg was much more severe.

Keith Hall is a builder and property renovations expert who lives an hours drive from Rimbard. He dropped everything to come to our aid. John, as soon as he was able, Keith, and his apprentice, Sebastian worked together until the very day of the wedding to finish the renovation.


The internal walls did get finished in time for the floor screed, and the heating was turned on the week before Christmas 2009.
Together we used over 300 sheets of plaster board (all of which were plastered) , laid over 4 tonnes of floor tiles, fitted 8 bathrooms, installed miles and miles of electrical cable and water pipes, and I lost count of how many bags of cement and Renocal were used.
Then there was the paint !!!…………